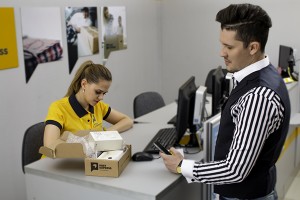 Post Express Company provides a new payment method for delivery of documents, parcels and freight – cash on delivery for individuals without a contract signing. 
This delivery method has a number of advantages for private remitters, online retailers and retail merchants.
No need for signing a contract. In order to use the service, only an identity card or a passport are required.
Guarantee to a remitter on payment of the delivered cash.
SMS notification to a remitter on cash being credited immediately after the payment.
Payment of money by transfer to the card (output to the card) of the sender.
Verification of the contents of a parcel for buyers before payment for their orders.
Cost - 3% of the cash on delivery amount.
Shipment of parcels done only from Post Express offices.
Transfer of money to a card or bank account.
Cash withdrawal is possible only in the department, where shipping was made.
In case of refusal of a good, it will be returned to the department from which the shipping occurred at the expense of the sender.